Background:
The machinegun is unusual because it is the only successful military machine gun working on the delayed blowback system before H&K systems at 1950.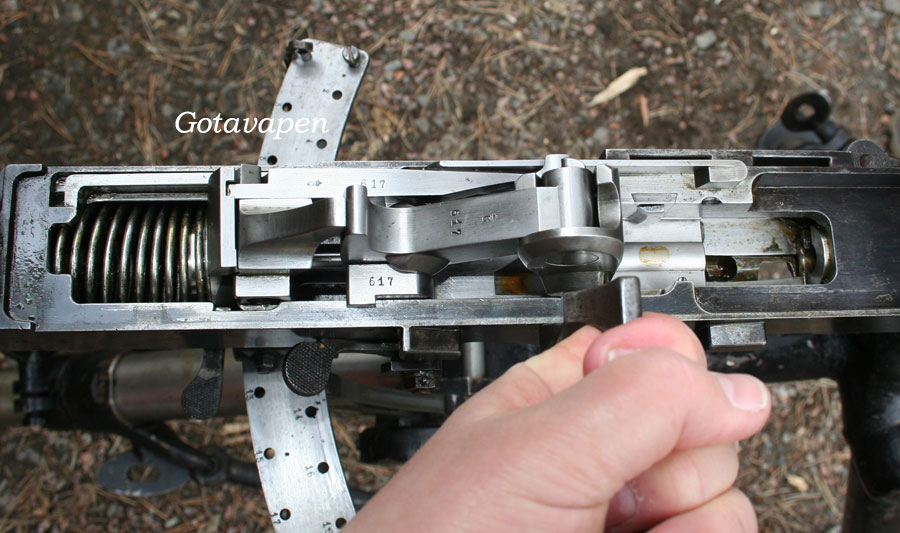 Mechanism (private collection)
The machine gun has got its name after its constructor Andreas Wilhelm Schwarzlose (1867-1936) who lived in Charlottenberg, Germany. It was first produced by Steyer in Austria 1902.
The machine gun has a small number of moving parts and a fixed barrel. It saw service during both the Great War and WW2.
This is a water cooled Medium Machine Gun (MMG).
The Schwarzlose Machine Gun M1907 was an extremely simple mechanism compared to other famous designs like Maxims. It was easy to make and proved reliable. The designer had managed to solve the problem with a delayed blowback system. The problem is that the breech starts moving backwards immediately as the cartridge is fired. The gas pressure is still very high and the walls of the cartridge case are expanded towards the chamber, which will cause very high friction. At the same time the extractor starts pulling out the empty cartridge case. The problem was solved by using very strong recoil springs and recoil parts together with a very short barrel. When the bullet left the barrel the pressure dropped while the kinetic energy of the recoil parts continued to pull out the empty cartridge case and reload the gun. The Schwarzlose machine gun has a device for oiling each cartridge to ease the reloading cycle. On each stroke oil was squirted into the firing chamber to lubricate the incoming cartridge case.
1912 some changes were made to the feed system and this change was called M1907/12. It had a straight top receiver and a simplified oil pad system instead of the pump mechanism.