Swedish Military Rifles 1963 - 1995
Text O. Janson
up dated 2013-05-04
---
Post WW2 rifles
FSR CG63 (Frivilliga Skytte Rorelsen)


Rifle CG63
The CG63 match rifle is used by members of the rifle organisation 'Frivilliga Skytterörelsen' (FSR).

The CG 63 were built by Carl Gustaf, from surplus m/94 carbines and m/96 rifles. It featured a new free-floating heavy barrel, a new pistol-grip stock and a micrometer aperture sight. The cocking piece was modified to reduce mass and stroke, the trigger was ribbed, the trigger guard was serrated and on m/94 actions the handle was straighted out. The sights could be of diferent designs; Elit, Söderin, GF, Fäldt, Pramm, Hellqvist, ....
A CG 63 with an Elit sight. The action is from a m/94 carbine, as could be seen on the bolt handle.
Data for the CG 63

Weight 4,5 - 4,7 kg

Length 1245 mm

Length of stock 314 mm

Barrel length 740 mm

Barrel twist 220 mm

Barrel diameter 19 mm

Trigger pull 1,8 ±0,2 kp
The Swedish Army used this rifle as the Gevär 6. The only difference was that Gevär 6 had a short clening rod beneath the barrel.
CG73
1973 came an improved stock for CG 63 which was called CG 73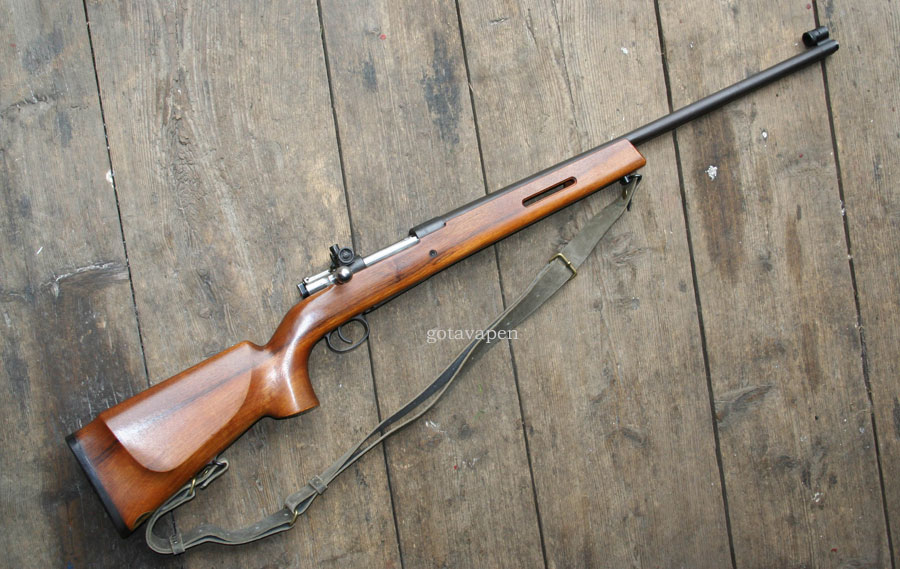 ---
FSR CG80
The later CG 80 uses the same Mauser action, but got a better stock and an even havier barrel.
---
Swedish Army
Psg 90, Prickskyttegevar 90 - Sniper rifle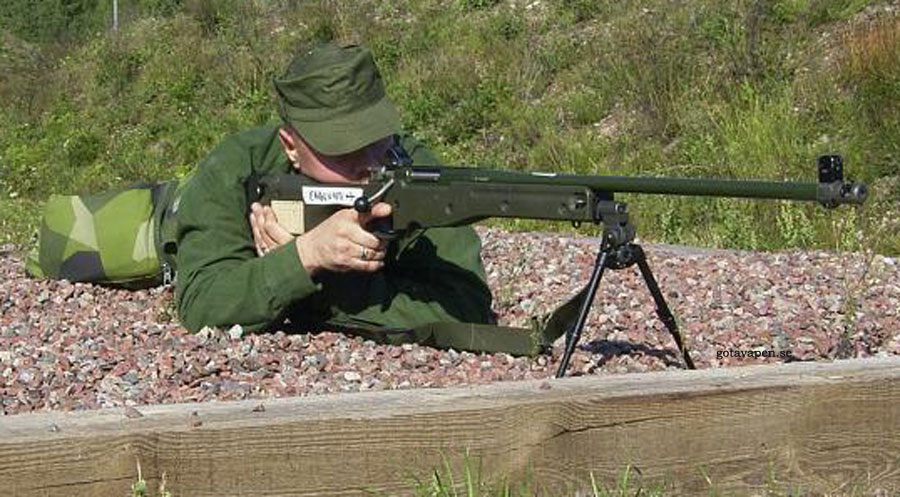 Psg90 7.62x51mm (Top Picture by FMV; middle Army Museum and bottom picture courtesy Anders Arvidsson)
Prickskyttegevär 90, Psg 90

Calibre

7,62×51

Ammunition

7,62 mm ptr 10

Feed

9-round magazine

Design

Accuracy International AW

Action

Bolt action

Manufacturer

Accuracy International

Year of delivery

1991

Quantity

800

Barrel

655 mm

Length

1184 mm

Weight

6,2 kg

Sights

Scope 10×, Hensoldt

Miscellaneous

Similar to UK L96A1.
Same scope as on Ag 90.

Status

In service


Ag90 .50BMG (Pictures by FMV)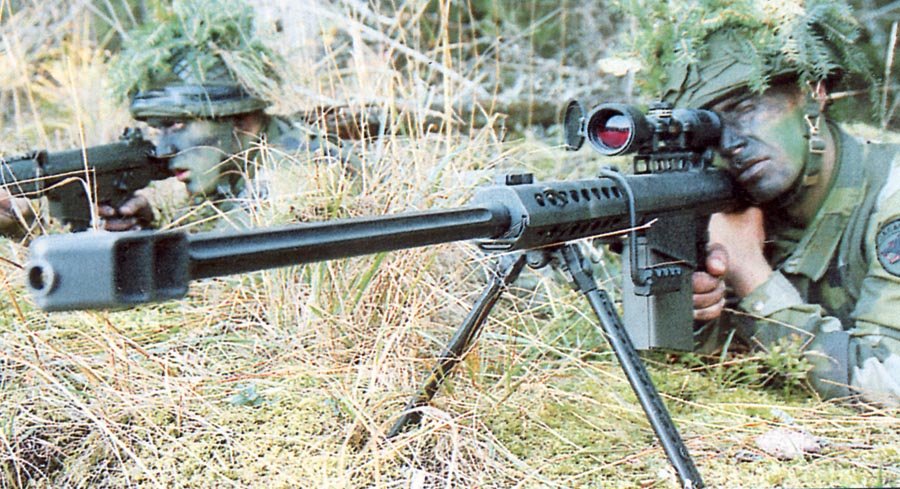 Automatgevär 90, Ag 90

Calibre

12,7×99 mm (.50 BMG)

Ammunition

12,7 mm m/39

Feed

11-round magazine

Rate of fire

Design

Barret 82 A1

Action

Recoil operated, rotating bolt

Manufacturer

Barret

Year of delivery

Quantity

Barrel

838 mm

Length

1550 mm

Weight

14,7 kg

Sights

Scope 10x, Hensoldt

Miscellaneous

Same scope as on Psg 90.

Status

In service
References:
Sven Nyberg
Mats Persson
Karl-Olof Björsell
Members of Gothia Arms Historical Society
Soldier Instruction manuals 1939-1943
Lt Colonel Axel Ekfeldt
Vapenmuseet
Lt Colonel Stellan Bojerud
Krigsarkivet
Anders Arvidsson, Swedish Homeguard
Ulving, S. Arvidsson, P. ;Ett skott en träff.
Hunts, Stockholm
FMV