Fighting knives used by British commandos and SOE during WW2
Fairbairn-Sykes fighting knife - Second Pattern part 2.
Text and pictures by
Olof Janson unless otherwise stated.

Special honour should be given to:


Robert Wilkinson-Lath

am,

Ron Flook,

Roy Shadbolt.

Who have given me much assistance.

On the picture to the left:

LeeEnfield SMLE NoI MkIII

F-S 2nd Pattern and 1st Pattern

Patches are Combined Operation and No 2 Commando
and Badge of LRDG
updated 2013-02-14
---
2nd Pattern: F-S Fighting knives with Wilkinson Sword logo-type.
2nd Pattern: F-S Fighting knives without Wilkinson Sword logo-type.
Broad arrow
B2 is the Wilkinson Sword look alike.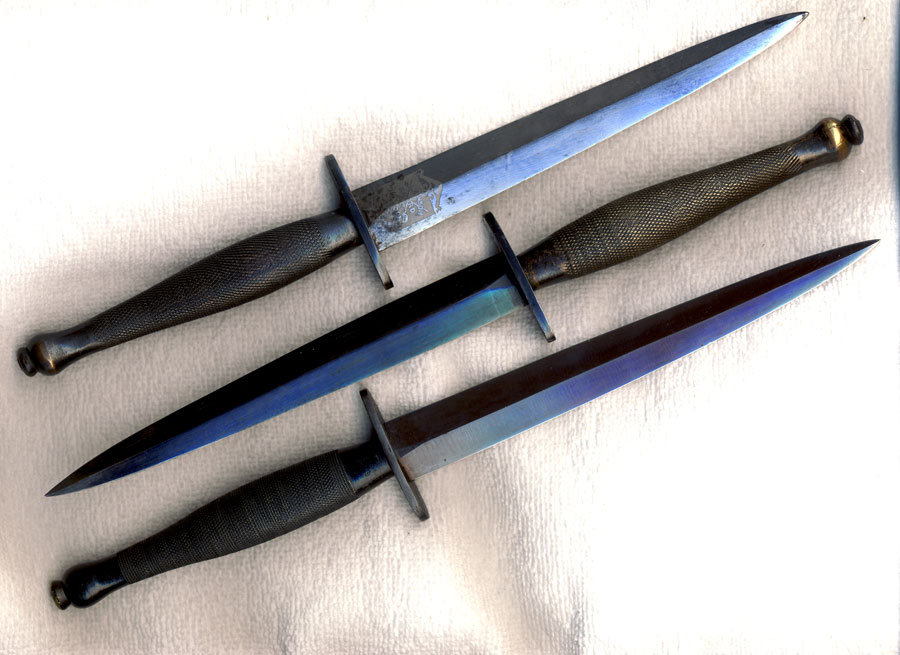 Wilkinson Sword,
B2 and J. Clark & Son were the only producers of these early 2nd Pattern F-S knives.
From top to bottom Wilkinson Sword,
B2 and J. Clark & Son (Private collection)
Until 1942 Wilkinson Sword had been the only company which produced the F-S knives. In 1942 there came two more manufacturers.
One was later known for its acceptance mark "
B2". It was made according to the drawings of the black hilt 2nd Pattern Wilkinson F-S knife. The close resamblance is the reason why many collectors assumed that the acceptance mark B2 stands for Wilkinson. Wilkinson Sword provided the drawings for BSA
Wilkinson Sword and J. Clark & Son were the only known producers of these early 2nd Pattern F-S knives.
From left to right:
2nd Pattern B2
2nd Reverse knurled grip
2nd Pattern -
US OSS Stiletto
Standard 2nd Pattern knife without F-S logo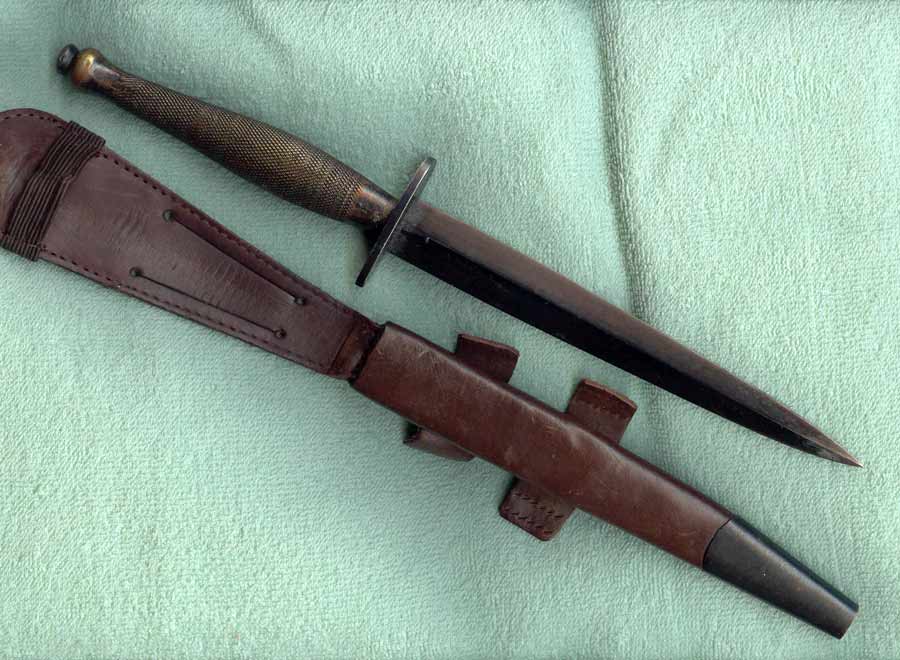 This is the ordinary MoD F-S Fighting knife 2nd Pattern. Please note the scabbard with the silent strap and the four leather tabs intended to stitch to the uniform.
This knife is marked
B2 on the crossguard.

(Private collection)

More 2nd Pattern knives

marked
B2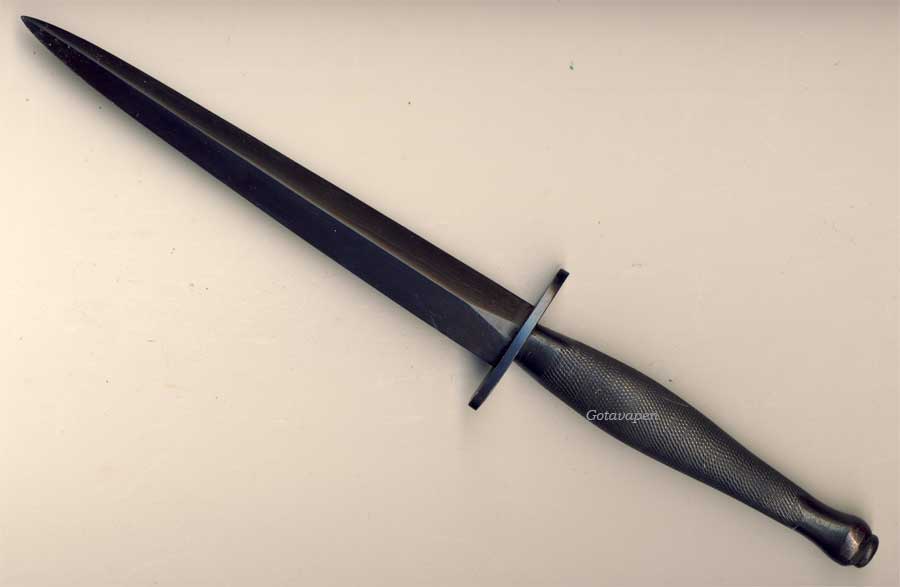 Please notice the large wedge on these B2 knives, both very close to mint condition.

These are the ordinary MoD F-S Fighting knife 2nd Pattern.
These knives are both marked
B2 on the crossguard.
(Private collection)
Normally these 2nd Pattern knives are not marked with any name or mark referring to the manufacturer. The exception is Wilkinson Sword who etched their knives with their logo.
Wilkinson Sword Company realised the demand for the knife.
According to Robert Wilkinson-Latham, "Deliveries were made to certain specified depots but the bulk of the production as it became available was held at the London showrooms, where they were given out against signed chits."
For not only SOE, but the whole of Britain's special forces clamored for the Fairbairn-Sykes.
Fairbairn said once: "The day they arrived, there was a near riot in the rush to buy them."

Ministry of Defence (MoD) has specified the length of the blade between 6.6 to 6.9 inches (168-175 mm). However blades are found as short as 160 mm (6.3 inches). There are some likely explanations for this.

The SOE brought these knives to Norway which adopted the knife after the war. The F-S Fighting knife was used extensively in Norway by the partisans "Hjemmefronten".

The Second Pattern knives are rare to find.
The hilt was secured to the tang with a pommel nut. It was fixed by hand on top of the tang.

The extra material of tang was cut outside the nut. Then the nut was put in a vice and the grip was grasped and tightened. After that the blade was put down in a vice with lead lining and the tang was hammered out. The indentation from the vice remained on the nut as seen here on a 2nd Pattern F-S knife.
This is another exception – this 2nd Pattern knife was made by J. & I. Marshall in Glasgow.

According to Ron Flook Marshall's is along established cutlery retailers with a long history. They have given him the information that the knife most likely was made by J. Clark and Sons. Blade length 6.75 inches and LOA 11.5 inches.
---
Grip with reverse knurling.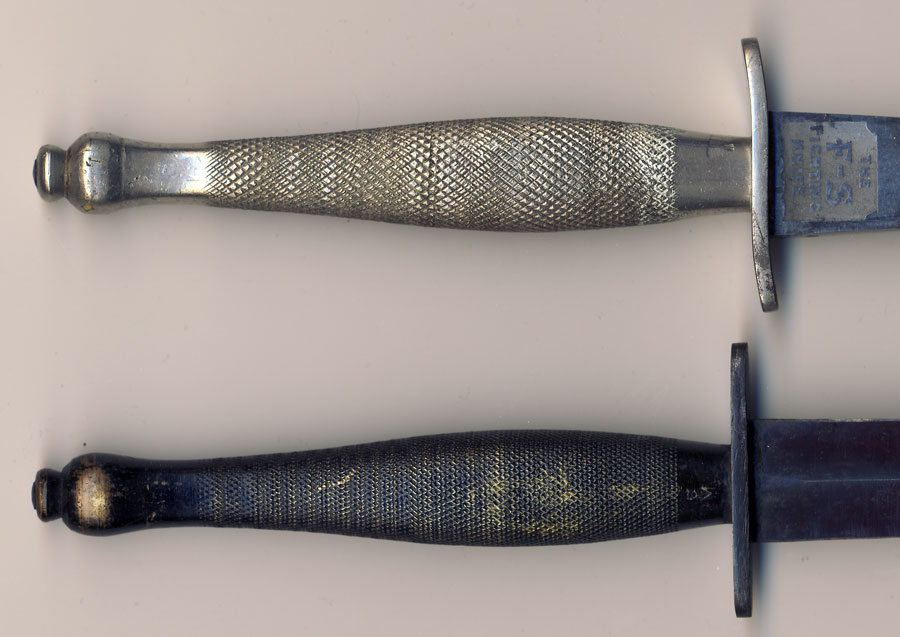 On this picture above is a normal line cutting on the nickel plated 1st Pattern knife on top and the Reverse knurling on the black knife under. (Private collection)
Normal diamond grip
The normal grips of the F-S knives have a pattern with raised diamonds on the grip. This pattern is similar to the checkered cut on the grips of rifles. It was brought forward by a wheel with lines which was rolled over the grip pressing the lines into the grip so the diamonds were raised.
Reverse knurled grip.
On this rare variant, a wheel with diamonds was rolled over the grip that punched the diamond pattern into the grip and raised the lines instead.
According to Dr. William Windrum in his book 'The Earliest Commando Knives' page 57-58 H.G. Long marked their Commando knives with
9
.
This is however his own theory. I have seen knives marked both with 9 and J. Clark & Son
He says that this mark is very rare. There is only a handful known specimens with
9

.

There are not many reports about these knives of 2nd Pattern with reversed knurling instead of the standard cut in diamond pattern. I only know knives with
4
and a couple of knives with Arrow
9.

Most likely both marks come from the Sheffield area.
It is for sure that some knives made by Clark & Son are marked with
9 as you can see on this picture below.
Read more about
examination stamps here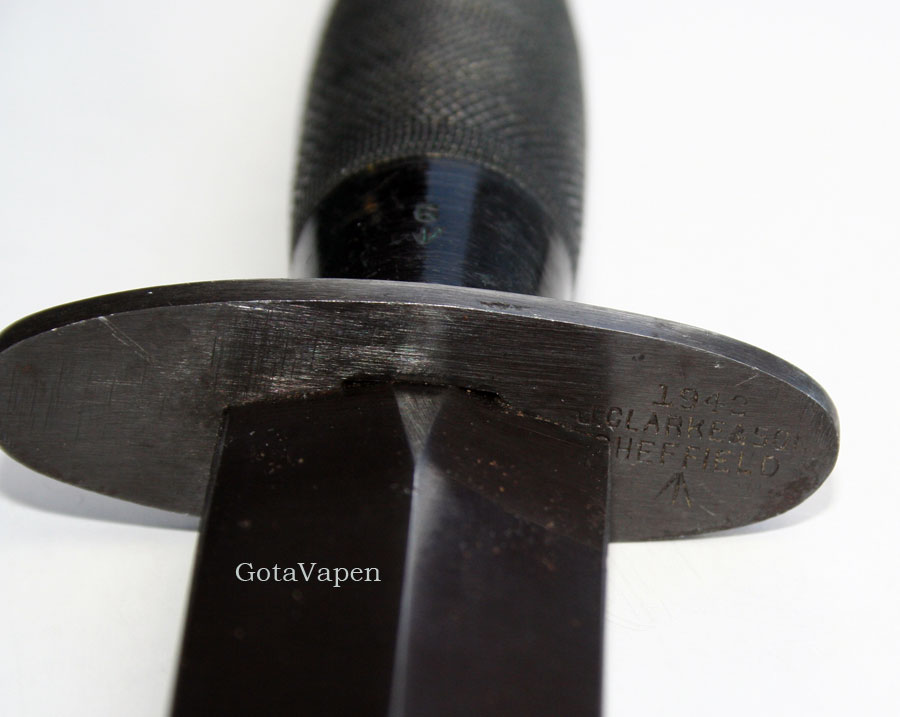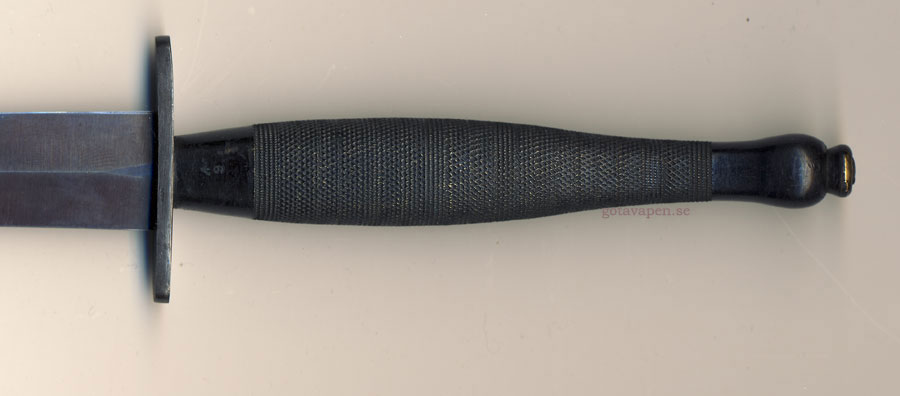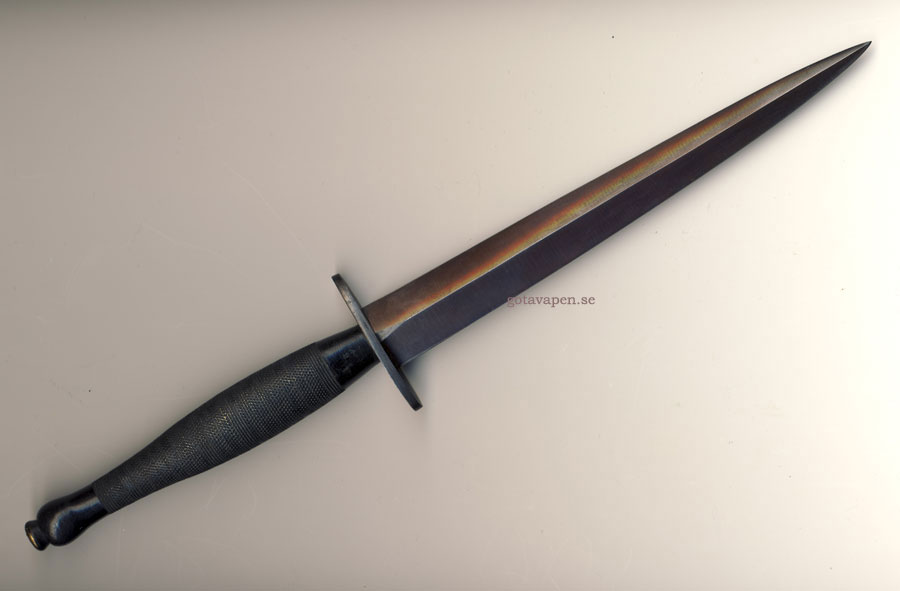 This is the cross guard of a Clark & Son marked reversed F-S knife, which also is marked
9. The authenticity has been confirmed by Ron Flook. (Private collection)
Reversed knurled F-S knife from Clark & Son, which is marked 9

(Private collection)
Another variation has an unusual fat handle. It is referred to as the Fat Man . Here is such a typical knife.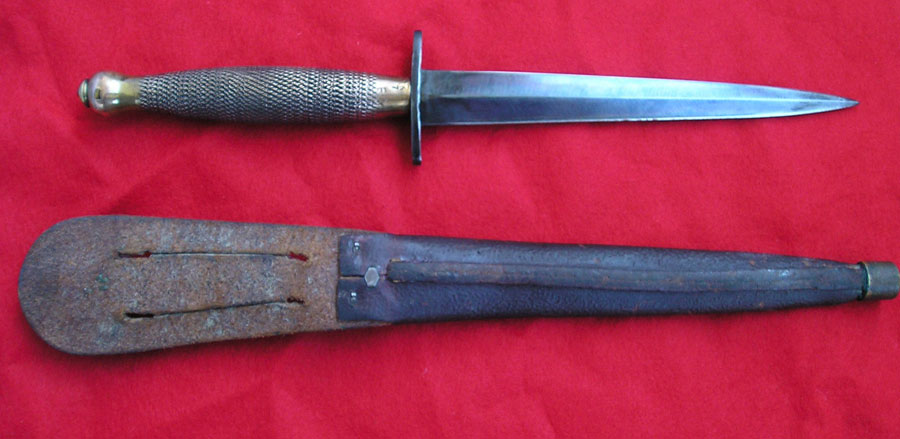 Fat man with unusual US made scabbard
(Courtesy of Jarle Ostensvik)
This very rare example is believed to be of possible American origin, and evidence might even suggest that Landers, Frary, & Clark could have been the manfacturer. This conclusion has been reached by noted author of "The Earliest Commando Knives", Dr. William Windrum.
However it has been proved that these knives also were made by the Sheffield company J. Clarke & Son who also made the reverse knurled grip pattern.
Scabbard is very rough, sewn and riveted like a hunting type.
However the standard FS sheath was also used which can be seen on the picture below. This is also reported by Ron Flook in his excellent book BRITISH AND COMMONWEALTH MILITARY KNIVES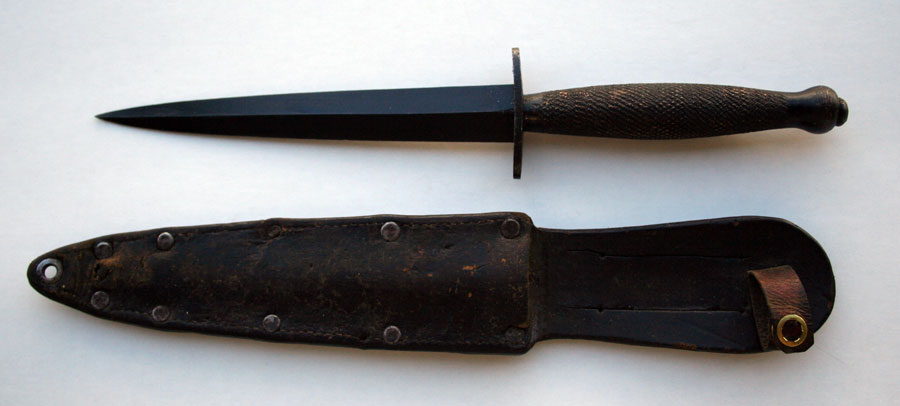 "Fat man" most likely made by by Clark & Son marked
9 with the standard, very rough, scabbard
(Private collection)
Another Fat Man

(Private collection)
Robert Buerlein says in his book 'Allied Military Fighting Knives' that SAS used the Fat man type of F-S knives and this picture from the liberation of France support that.

This SAS patrol is heavily armed. The truck is as usual equipped with a twin Vickers K MG. Both Commandos walking carry Bren LMG and the soldier to the right also a FAT MAN FS knife.
Top the grip of a Fat Man

and
below a knife with reverse knurling

Both made by J. Clarke & Son.

4

It is significant how well made these 'J. Clarke & Son' knives are.

Roy Shadbolt's collection
ALL BRIGHT 2nd Pattern F-S Commando knives
There is a nice series of all bright F-S knives. These knives are inspector-marked:

56 and

60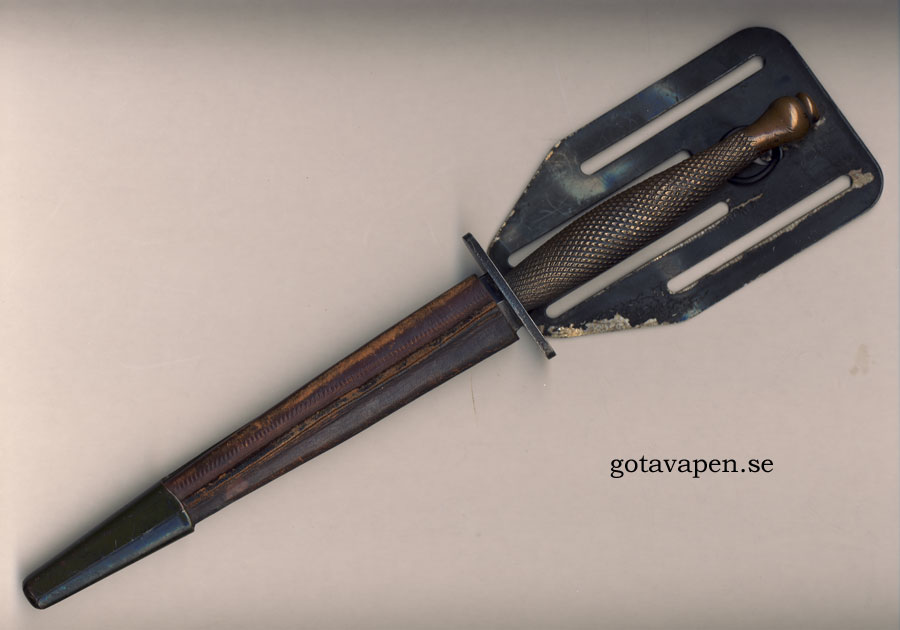 O.S.S. Stiletto
(Private collection)
The O.S.S. Stiletto, which was made by Landers, Frary & Clark, can also be referred to as a 2nd Pattern type of Commando knife. You can read more about it here....
2nd Pattern: F-S Fighting knives with Wilkinson Sword logo-type.
Forming of Commandos
The Shanghai fighting knives

There are three basic modells of the F-S fighting knife.

1st Pattern F-S Fighting knife
2nd Pattern F-S Fighting knife
2nd Pattern F-S Fighting Private Purchase knife
2nd Pattern F-S Fighting w/o Wilkinson trademark.
like B2, Fat Man, Reverse Knurling
3rd Pattern F-S Fighting knife
Beaded & Ringed - Roped & Ringed
Wood handles.

OSS - Stiletto w.'Pancake Flapper' and
US Marine Raider Stiletto

Sheaths
Marks
Sheaths
UK Commando knives; Postwar production
---
References:
| | |
| --- | --- |
| Robert Wilkinson Latham | His own web site |
| Alan W. Locken | Commando 1940 - 1945 |
| Robert A. Burlein | Allied Military Fightingknives |
| Ron Flook | British and Commonwealth military knives. |
| Fredrick J. Stephens | Fighting Knives |
| Frank Trzaska | The O.S.S. Stiletto - Knife World February 1998. |
| Frank Trzaska | The Raider Stiletto - Knife World July 1997 |
| Kelly Yeaton | The First Commando Knives. |
| John Nowhill & son | Sheffield |
| Michigan knives | |
| Dr. William Windrum | The earliest commando knivesAllan W. Locken – Commando 1940 - 1945. |