It was here in Shanghai 1931 they started to develop a new type of knives. The knives were made at the Shanghai Municipal Police (SMP) Armoury. It was under the supervision of a former White Russian Colonel, Nicholas Solntseff, his staff made knives on a custom basis for U.S.M.C. officers and others.
A young US Marines officer - Second Lt. Samuel Sylvester Yeaton (1907 - 1979) was also involved in the composition of Shanghai knife. His correspondence with his family gives good information about these early activities. His brother Prof. Kelly Yeaton has written a book about this called
The First Commando Knives
This is an excellent book and it describes the only true Shanghai knives.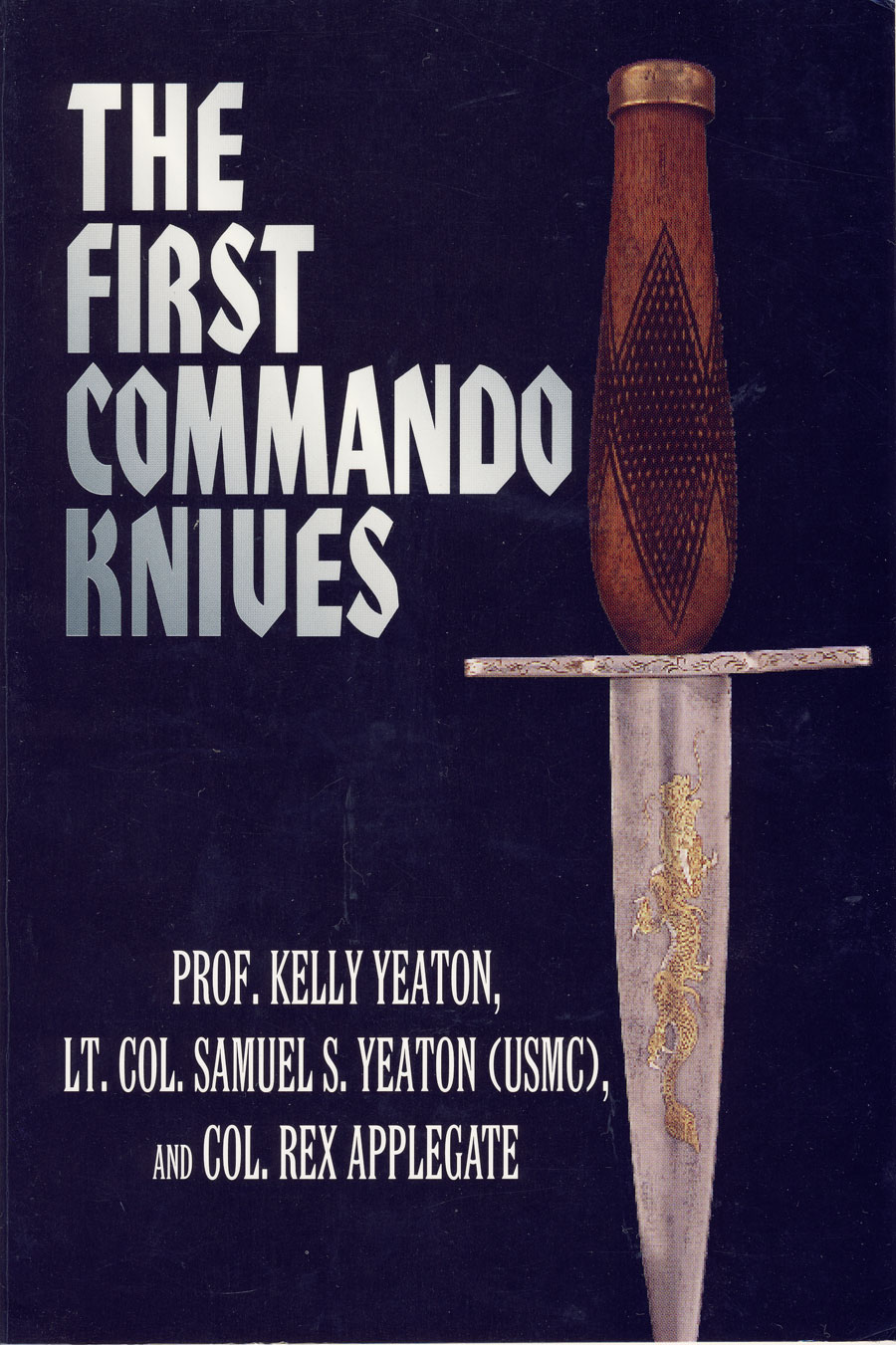 Outside Prof. Kelly Yeaton's book you can see a true Shanghai Fighting knife!
In this book you can see some examples of the very rare original Shanghai knives. It describes the life in Shanghai from 1932 onwards. It is a very nice book and on the outside you can see the knife of the Yeaton brothers.
The knife was carried in a scabbard hidden but easily accessible. This scabbard was a very important part of the knife system.
Nobody knows how many custom knives were made; the number of known examples is extremely small.
---
Most Shanghai knives you will find are fakes or copies!
Most serious collectors nowadays agree too that the only true Shanghai knives are those pictured in Prof. Kelly Yeaton's book. Unfortunately there is some very well known literature in English from a very well known author, which is not reliable. The pictures shown in that book are fake Shanghai knives!
Dr. Windrum believed in these knives. Let us make some criticism of his sources. If we analyse his writings we will soon become aware of that many of these knives came from the same source. This source had a very strange ability to "uncover" or "find" all sorts of odd prototypes and experimental knives owned by Fairbairn.
All known Shanghai knives with reference to Dr. William Windrum are fakes,
according to well known experts!
Like in many fields of collecting, the fakers can completely mess things up!
NEVER BUY A SHANGHAI KNIFE WITHOUT PROVINENCE!
As you can see the so called Shanghai knives shown below here are all fakes and differ from the originals shown in Yeaton's excellent book in terms of materials and some design features.